A Delicate Balancing Act – Part II of III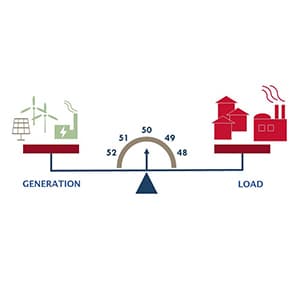 Visorie Industry Insights: Power & Utilities
Record electricity usage (referred to as "load") for this time of the year, along with weather-related outages, created a crisis for our Texas energy grid. The power outage we experienced was caused by a combination of interruption of generation capacity and the inability to deliver power via the transmission/distribution network. Network issues are what we typically think of in an outage (ice-covered trees falling on a line, lightning striking a transformer, etc.). We are more used to generation capacity being an issue in the summer when the grid experiences "critical peak" demand between 4 pm and 10 pm when people come home from work and turn on their air conditioners. The term "critical peak" describes the few hottest days of the year (or coldest in our current situation). That's when EROCOT has to have additional power available, or they have to "shed load," meaning cut off your power.
In Texas, we have de-regulated Generation (Luminant) and Retail Sales (many). On the other hand, we have regulated Transmission and Distribution (Oncor, or another provider depending on where you live). Our Public Utility Commission (PUC) acts in all citizens' best interests in delivering economic, safe, reliable power. The PUC allows regulated utilities a competitive return (in this case, Oncor) to encourage them to invest in our power grid. De-regulated utilities take their chances. It's important to note that all investor-owned utility costs are either borne through the rate-making process (and charged to customers) or charged to shareholders like any other publicly-held company. Sempra Energy, a California utility, has owned Oncor since 2018. Therefore, if we want Sempra to invest in our Texas grid, we must offer them a competitive return on their investment.
Utilities have different types of Generation that make up the "Generation Stack," which essentially maximizes power production economics based on the demand forecast:
Baseload (think nuclear and coal-fired) is cost-effective but expensive to construct and hard to turn on and off and is targeted at consistent demand over time, day and night. It's never turned off.
Intermediate or "Peaker" power plants kick in as the demand grows, frequently natural gas-powered. This type is less expensive to construct. Although more costly, it can be started and stopped quickly.
Renewable energy acts more like Baseload, but it is not produced consistently, and it's the most expensive power in the stack. Last week, we experienced outages from Renewables in West Texas due to weather (and Peaker units that can't get the natural gas they need).
Remember, at all times, the Generation and Load in the grid must be in balance. In a simple sense, if not enough load, you cut back on Generation. If not enough Generation, you have to shed load. In normal times, when additional generation capacity is required to meet demand, the price of Generation goes up to encourage other providers to sell needed power into the grid.
Like with Oncor, we have to provide merchant power producers a competitive return to build generation capacity. ERCOT decides what generation capacity we need.
Load shedding is what some of us experienced last week (in addition to some network outages). Who is responsible for shedding load? For most of us, that determination is made by Oncor (after being directed by ERCOT), based on some limitations as to where they can deliver power. Who was charged for the high cost of generation during the grid outage? It's the retail providers (and their customers) who are paying the high spot price of electric energy. Bloomberg reported: One power supplier, Griddy, told all 29,000 of its customers that they should switch to another provider as spot electricity prices soared to as high as $9,000 a megawatt-hour. Griddy's customers are fully exposed to the real-time swings in wholesale power markets, so those who don't leave soon will face extraordinarily high electricity bills.
So what should we do to prevent this from happening again, and who should bear the cost? As always, please reach out to me at njramsey@visorie.com with comments or questions. And stay warm!