Designing The IT Organization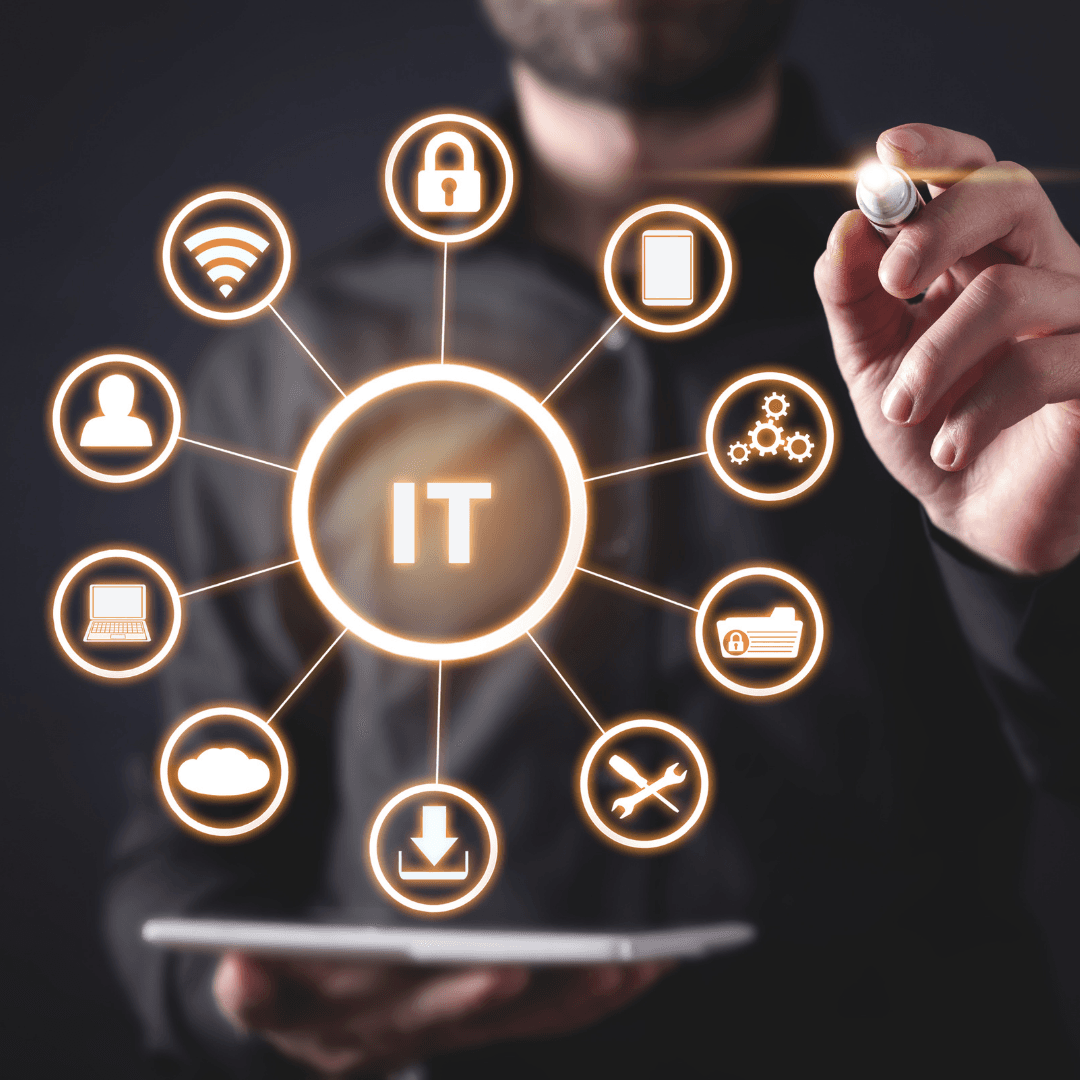 I talked last week about how a large part of IT value is determined by responsiveness to business needs. Like any organization, your IT team needs certain capabilities and principles to organize around. Rather than address principles now, I'd like to talk about capabilities. Most of the following IT capabilities are required, whether your IT group is 2 or 200. The difficulty is that small IT departments have to spread these across a small team, whereas large groups tend to have teams specifically trained in delivering each of these capabilities.
Leadership. Someone has to lead the team, and this person usually reports to the CFO or COO. Note that the CIO is usually business-facing (business requirements, budgets, projects, etc.) and a CTO is typically technology facing (architecture, IT services, security, etc.).
Engagement with business customers. This is similar to an internal IT sales function. In small IT shops, this might be one job of the IT Director. In large shops, I've seen teams assigned across business lines and functions. Their job: bring back business strategy and plans to IT leadership so that it can appropriately plan and execute, and carry IT-led innovation back to the business.
Applications. Applications support business processes, like billing or financial accounting. For differentiated capabilities (like billing) customization and availability needs are high, so normally IT responsiveness and support levels are higher.
Infrastructure. Networks, storage, and servers. In the 90's this area was all the rage, today most people outsource a large part of it, or virtualize it by moving to a cloud services provider.
Security. This capability is changing; as opposed to bolting security services on, many companies are now designing security into the architecture. In large companies this is owned by a CISO, in smaller companies I usually see this owned by whoever manages the network.
Support. End-user application support, as well as deskside and technical support. Many companies have outsourced much of this over the last several years. I often see this owned by the infrastructure leader. One benefit of SaaS applications is that they provide the application and technical support.
Project management. Larger companies usually have a PMO that reports to the CIO. Smaller companies usually ask implementation partners to provide project management for their projects.
Financial management. Managing the people, services, supplies, hardware/software, and project costs. In large IT shops, this role is often called IT Finance Director. In small shops, it falls to the leader to manage the IT budget.
A note about outsourcing – to perform as you expect it has to be managed. In large companies, outsourced vendors are usually managed by the related IT leader (e.g. applications or infrastructure), and many companies use principles of IT Governance in managing strategic relationships. A strategic partner should be treated as an extension of your organization. This often means sharing business plans and performance improvement goals with them.
An organization's design is key to delivering on the mission, whether you are a nonprofit or Walmart. I can often look at an org chart and quickly tell you how its leader thinks value is created. Here's the key, if you're trying to increase IT value by reducing cost, you have to ensure you're not impairing one of the above capabilities, otherwise, you risk impairing things the business does to deliver value to stakeholders. Instead, first, look for low value-added demand for IT services. I'll pick it up there next week.