Do You Have The Will To Prepare?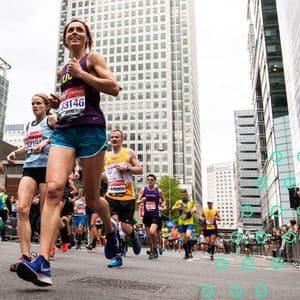 For about ten years, I was a serious runner. During that time, I ran seven marathons and countless halves and 10-milers. I ran with a training group at White Rock Lake here in Dallas and enjoyed(!) rolling out of bed at 4:30a on Saturdays in time to be at the lake by 5:30a to stretch and then start running at about 5:50a. So what? Well, when I toed the line on race day, I wanted to set a personal record (PR) – as did most of the runners there. Dallas, London, New York; it didn't matter. On race day, everyone has the will to win. Here's the question: who had the will to prepare? You can't run a marathon by training for a couple of weeks; you need to determine your goal, get some coaching, set your plan, and work your plan. That's how I ran marathons (by the way, most people can do it if you approach the right way). For many of the challenging things, we attempt to do, whether business or recreational, the will to prepare is more important than the will to win.
So how do I apply this to projects? Last week I mentioned that more projects fail due to a lack of executive support. Let me explain.
Let's say you are going to spend $1 million on a new customer system. For many of us, that's a number that gets our attention, and because of the size and risk, business leaders must be involved in the definition of the project and selection of the team. But that's not enough. They need to be heavily involved in the Analysis and Design phases – where the project team decides what business value this is going to create and before the money is spent. Executive engagement is most valuable when your team is trying to turn a technology project (for example) into a business project.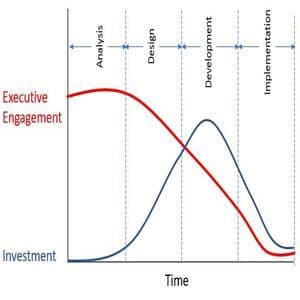 The will to prepare is a requirement of leadership - to clearly articulate their vision for the project, the business objectives, the requirements (uncovered in Analysis), and how people, process, and technology will meet them (the Design). After that, business leadership can then focus on ensuring that (1) work and schedule are predictable and (2) that business benefits will be realized (two of the seven keys I referred to last week).
I often noted in failed projects that the executive sponsors didn't get involved until the team had built a prototype or even in the testing and acceptance phase. Once you've reached the Implementation phase, the money is already spent (see chart above). At this point in the process, making a change to requirements will cost 1,000 times more than making a change in the Analysis phase.
By the way, my favorite marathon: London, without a doubt. Check out this cool time-lapse of the course. I particularly enjoyed running across the Tower Bridge at mile 12 and then running around Big Ben and Buckingham Palace at the finish.
Do you need help in getting projects done on time and budget? Email and let me know, and as always, I welcome your comments and suggestions.