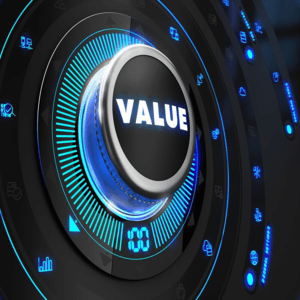 I've spent a lot of my career in Technology Consulting, including most of the time at PwC. Before that, I started a Technology Consulting practice for BDO here in Dallas. If you look back through my weekly communications, I choose to lead with business discussions – revenue, people, inventory, innovation, risk – because most technology solutions are there to enable a business solution; I could not have made a living implementing technology solutions without first developing the underlying business case.
Many of my former CIO clients were practically running an IT business within a business. It was not uncommon for my clients to spend 3% of revenue on IT (for both operations and capital), so for a $5 billion company, that's $150 million a year, but even if you spend $150,000 per year, your IT function has the same value proposition as theirs:
Support business value (revenue, operations, accounting, HR, etc.),
Provide IT services at a competitive cost (including managing outsourced providers), and quality,
Manage risk (security, complexity, and platform obsolescence, for example).
IT may have a different value proposition for technology companies, but it's considered a critical supporting function for most of us who deliver products and services. Most IT organizations build their team around the delivery of a few key capabilities:
Applications – enabling technology for crucial business processes, now more frequently delivered as Software as a Service. General ledgers, customer billing, and supply chain systems, for example.
Infrastructure – servers, storage, data centers, end-user support, and internal management applications. These days, many of these are delivered as Managed Services to take advantage of a superior value proposition.
Services – end-user support, vendor management, and technical services, such as software and database maintenance, integration, and development.
For larger organizations, I would include Project Management, tasked with efficiently delivering the business benefits from implementing the technology, and Governance which might own the enterprise architecture and represent the "enterprise as the customer" in coordinating technology spend and enterprise value.
It's vital that the Chief Information Officer (CIO or other IT owner) "owns" the delivery of IT services, whether sourced internally or externally. The CIO would typically own the IT budget, including the categories above and the enterprise value proposition. We used to segment this spending into three buckets:
Run the business – the application and infrastructure services you need to run your day-to-day business, generally non-differentiating services.
Grow the business – provide for incremental and organic growth, which has to do with additional capacity but can also be associated with marketing and process improvement.
Transform the business – enable discontinuous improvement for your business. Support a new category of customers/revenue, transform your workforce or operating model, or enable a previously unavailable strategic capability, for example.
In general, our IT strategy, given a company's business strategy, was to pull investment out of the "Run the Business" category and repurpose it into the "Grow and Transform" categories. I'll discuss these topics in more detail in the coming weeks.