What A Difference A Year Can Make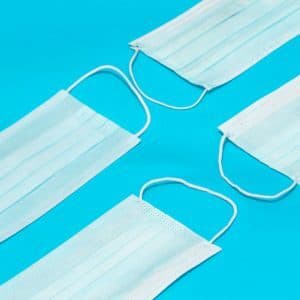 It's been about a year since COVID-19 clobbered our businesses here in Texas. Considering the timeline, it's amazing how resilient the American people are, including our economy. In January, we heard the first news reports of a US infection (although the virus emerged in Asia several months before that). Governor Abbot issued an Executive Order on March 19 that closed in-person schools, restaurants, and gatherings of more than ten people. President Trump signed the CARES Act on March 27, 2020. On March 31, Governor Abbott issued another Executive Order that minimized all social gatherings and in-person contact, which had the effect of closing many businesses. Only "essential" companies were approved to continue operations.
In May 2020, I penned a column that discussed the two ways to look at COVID, from a businessperson's perspective, whether the primary threat was from consumers withdrawing from the economy or government intervening. I want to walk through that again, with the benefit of a year in hindsight (which will not be nearly enough).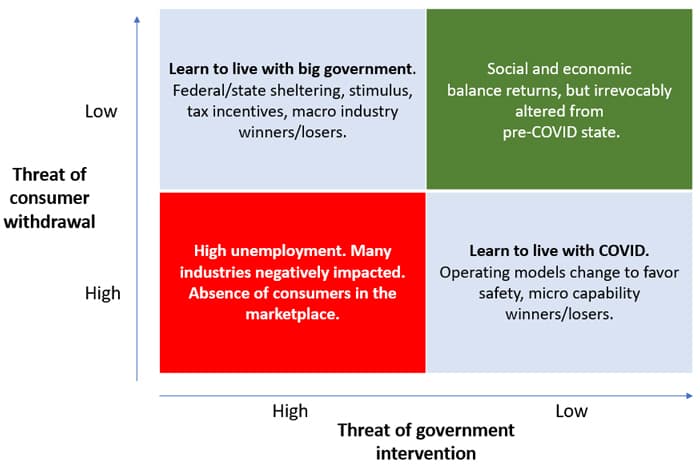 Depending on your industry, we spent a longer time in the lower-left quadrant than we would have hoped. In Texas, we had a peak hospitalization in July 2020 and then another higher peak in January 2021. My firm was out of our office during April, and then we began returning on a limited basis in May (and we are still in that mode). At the time of this column, my thinking was that we would have to learn to live with "big government" acting in the best interest of all citizens until the scientists could decipher the virus behavior and obtain a vaccine. For others, such as those in the entertainment, travel, or food service industries, your entire business model was clobbered due to government-mandated restrictions or consumers who were fearful of the risk (or both).
At Visorie, we have had to learn to live with COVID, delivering needed services to our clients while we (and they) worked remotely. This being the 21st century, working from home is no longer rocket science. Still, its sudden implementation prevented us from planning and executing a smooth transition – all of a sudden, we were always on Zoom. It's not necessarily a technology challenge. Working face to face enables spontaneous collaboration and innovation, and that's something I have been missing. Relationships matter and they are hard to nurture over Zoom.
I still believe we will all end up in the upper right quadrant, that our business and personal lives have been irrevocably altered. I know of at least a couple of businesses who were actually strengthened by the CARES Act stimulus; many more have been shuttered with stimulus not being nearly enough to see them through. Including the $1.9 trillion coronavirus relief package, the government has spent about 27% of US GDP on stimulus so far. I personally think free-market innovation and investment will be more valuable than stimulus in the long run. Leaders will define new business and operating models that will thrive in the upper-right quadrant, creating new value by taking advantage of the change.
Have other ideas on living with COVID? Email and let me know, and as always, I welcome your comments and suggestions.