What Do You Want To Be Famous For?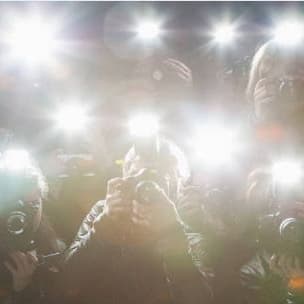 What's the vision for where your company plays? Most Professional Services organizations strike a balance between delivering new ideas, insight, innovation, and creativity (for example, strategy) or consistent, effective execution within a particular field or function (i.e., outsourcing). Most of us stake our claim (and base our rates) on being famous for at least one of these.
While your business may not technically be in the Professional Services industry, many of us have at least a service component within our broader value proposition. I recently read an interesting book entitled "Profitable Brilliance: How professional services firms become thought leaders." Although published in 2012, the message is timeless. It illustrates the impact a leader's vision can have on any company's path, and it also reflects two of my common themes: vision and change.
Who doesn't want their company to be known as a thought leader? To follow on with my comment above, any professional services organization has three value propositions:
Bring the idea
Bring the know-how
Bring the people
Strategy firms' brand is built on bringing innovative and insightful new ideas; offshore IT firms' brand is built on running infrastructure and applications effectively using smart and less expensive people.
The thought leadership vision you pursue reflects the position you want to own. Thought leadership is an important component of your SEO strategy. A key to a successful SEO strategy is the notion of your unique value proposition and how you describe that in "keywords" that will result in your company returned in search engine results. Essentially, you want to be part of the keyword "long tail" rather than play in the 20% of the curve that 80% of the companies play in. If you are going to be a thought leader, you need to define the position you want to own. Have you thought about what you want to be "famous" for?
Authentic thought leadership requires change and courage. It's one thing to keep a steady hand on the rudder. It's another to turn the Queen Mary. I had opportunities to lead projects for Fortune 500 clients because leaders felt they could not execute organizational change. Even though they hired us to make it happen, they had to sign on to the case for change. Change requires work and courage. While there are "gunslingers" who made decisions based on gut feel, most projects I led involved a careful analysis of the opportunity (I call the "compelling case for change"). Even then, leading change puts stress on relationships.
Acting with integrity is essential. The leadership gurus I used to study (Kouzes and Posner) said that authentic leaders needed to do five things:
Model the Way
Inspire a Shared Vision
Challenge the Process
Enable Others to Act
Encourage the Heart
Essentially this means they act by following their words. Otherwise, a leader who does not is simply a talking head and will struggle to lead change.
What do you want to be famous for? Email and let me know at njramsey@visorie.com, and as always, I welcome your comments and suggestions.